Archers Pond & Polly's Crossing
Ossipee, NH - The rumors about Archers Pond and Polly's Crossing are endless. Ghosts walking around with a shotgun, chilling screams that will send you running, the ghost of a young girl walking the tracks, apparitions, voices.... All classic signs of a possible haunting, but is Archers Pond and Polly's Crossing is Ossipee, New Hampshire really haunted? Is it just rumors? Is it a stunt to get people to come to the town of Ossipee? Or is it real?
---
The Rumors
---
Archers Pond Rumor #1: A man named Archie killed everyone in the small village surrounding Archers Pond and threw the bodies into the pond. Archie then hanged himself from a rope outside his house. The rope still appears on the property today. Archie's ghostly apparition is seen walking around Archers Pond with a shotgun in hand.
Archers Pond Rumor #2: Locals insist creatures exist behind Archers Pond in the hills and a group of locals went out to disprove the legends in the 1950's. They parked on a bridge near Archers Pond and their car began shaking violently. They all ran out and vowed to never return again.
Archers Pond Rumor #3: You can see the lights of old lanterns in the woods near Archers Pond and Polly's Crossing at night.
Archers Pond Rumor #4: Polly's Crossing was named after a girl named Polly that was hit by a train there. Polly's horrific screaming can be heard in the woods at night.
Archers Pond Rumor #5: A boy named Andy Stockman went missing, his late 70's Ford Mustang II was found at Archers Pond. His car had been set on fire. His body was found in Tuftonboro NH with a gunshot wound to his head (This rumor has been confirmed by several people who knew him but unfortunately the murder case remains unsolved)
Archers Pond Rumor #6: A young teen couple that lived on opposite sides of the pond were sneaking out at night to meet each other at the edge of the pond. The girl's parents didn't like the boy and told them to stay away from each other. They met at least once a week and promised each other the were going to run away and get married. One night, the teenage girl's father noticed she was sneaking out and followed his daughter. When he found them together he murdered the young boy. The young girl killed herself a week later. Their ghostly shadows can be seen sitting on the Northern edge of the lake with their arms around each other.
And a few more rumors from a credible source...
(a well respected lifelong Ossipee resident)
Archers Pond Rumor #7: A man named Archer was walking on the frozen pond and fell through the ice. His body was never found. The townspeople named the pond after Archer.
Archers Pond Rumor #8: A poor woman named Polly needed new shoes but her husband insisted that she not buy new shoes because they had no money. One day Polly decided she was going to buy new shoes despite her husband's demands. When he returned home and saw Polly's new shoes he cut her head off with an axe then hung himself in the barn. The road named "Polly's Crossing Rd." was named after the poor woman Polly.
Archers Pond Rumor #9: In the 1800's, the Archer's Pond area residents all died from the plague (Small Pox). Most of their bodies were buried in a cemetery on the South side of Archers Pond. Today, only one headstone remains. There are old cellar holes on the South side of Archers pond as well. Other bodies may have been buried at the cemetery located at the Archers Pond Rd / Chickville Rd intersection in Ossipee but was not confirmed as fact.
Intrigued by all the rumors, we called the Ossipee town office and spoke with an unidentified person there. We talked to them about Archers Pond and Polly's Crossing and as soon as Archers Pond was mentioned, the person cut me short and said: "Yes, it is haunted! Is that what you wanted to know?"
They said it with a chuckle, I asked them if it is really true and they said they believe it is and they have also heard many stories about Archers pond.
Two people at the Ossipee town hall backed up the story about the village residents dying from the Plague (Small Pox) in the 1800's and their bodies being buried in a cemetery there.
View Archers Pond Investigation Evidence
---
Daytime Photos of Archers Pond & Cemetery in Ossipee, NH
---
Archers Pond Ossipee, NH
Archers Pond Road Ossipee, NH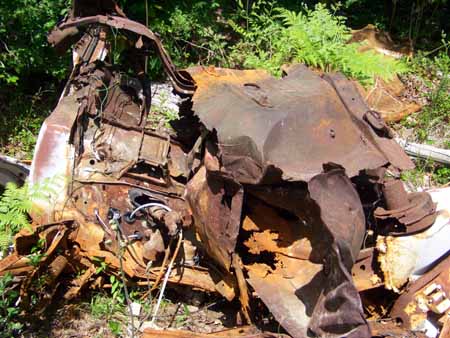 Old Car at Archers Pond
We have confirmed that this is

not

the burned car from rumor #5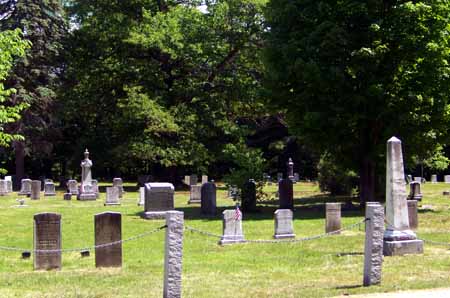 Chickville Cemetery on Archers Pond Road in Ossipee, NH
---
View Archers Pond Investigation Evidence